34% of project problems due to unclear communication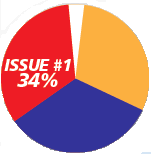 Managing Projects Well
Project failure because people didn't matter.
Getting Your Point Across
Facilitate understanding, involve all parties so that all requirements will be identified and all parties will be involved effectively.
Strategic Partnering
Plan on good business relationships; IT professionals speak "business-speak" and business users speak "IT speak"! Far Enter into a strategic partnership with one another.
Cost of Quality
Communicate clearly and concisely where the waste is to upper management; cut waste and rework by looking at the work, its progression through the workbench. Make a major individual improvement in quality.
CSQA
This 3-day Certified Software Quality Analyst Exam Study Course has been designed specifically to help the quality assurance professional prepare for the CSQA examination. The course provides a review of the quality fundamentals and also includes the more advanced concepts, which the Certified Software Quality Analyst must understand. It also includes sample exam questions for each of the domains covered in the CBOK. The completion of this course along with the necessary practical experience and related resource familiarity will help prepare the candidate to sit for the CSQA examination. For more information, contact us.
For a Fortune 100 company, Steve enabled staff to go forward and become the first winner of the Malcolm Baldrige National Quality Award in the Service category, by improving management quality skills in a weak area .
CSTE
This 3-day Certified Software Tester (CSTE) Exam Study Course is designed to help candidates prepare for the certification examination. It assists the professional to focus on the topics that are important for understanding and thus help towards the successful completion of the exam. This course is not intended to supplant the need for proper examination preparation. However, it will serve as an excellent review of the material covered in the test. For more information, contact us.
For a major banking Point of Sale conglomerate, Steve showed them how to substantially reduce testing and rework by doing the job right the first time and using development process techniques.